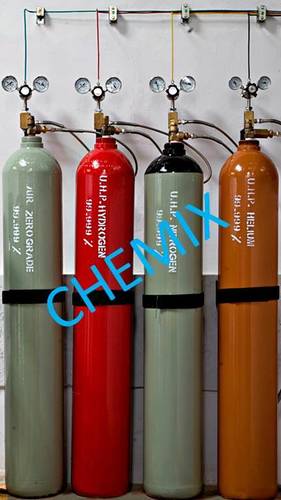 Ultra High Pure Gases
Price And Quantity
Product Specifications
Product Description
Chemix Speciality Gases and Equipments is a reliable company to contact to meet the Specialty Gases requirement for critical applications. There are no critical contaminants in the ultra high pure gases which can result in instrument interference and chromatographic column degradation. The company can guarantee the high purity by extensively preparing cylinder, marking dedicated cylinder for dedicated gas service and a statistical quality control. Irrespective of the application, Ultra High Pure Gases can optimize analytical results and extensive the life of instrument.

Ultra High Pure Gases are meant to cater to the following requirements:

1) Thermal Conductivity Pure Gas
2) Instrument Zero Gases
3) Elemental Analysis
4) Flame Ionization Fuel Gas Mixtures
5) Hydrocarbon Feedstock
6) Inert Pure Gases For Blanketing
7) Carrier & Detector for GC & GC-MC
8) Chemical Ionization Pure Gas for Mass Spectrometry
9) Mobile Phases for Supercritical Fluid Chromatography & Extraction
10) Reaction Chemistry & Chemical Processing

Ultra High Pure Gases can be availed om several grades based on specific impurity level. The gases are provided in different cylinder sizes. The company sends Detailed Specification with the offer. It can be also make available and furnish MSDS on request while supplying the product.